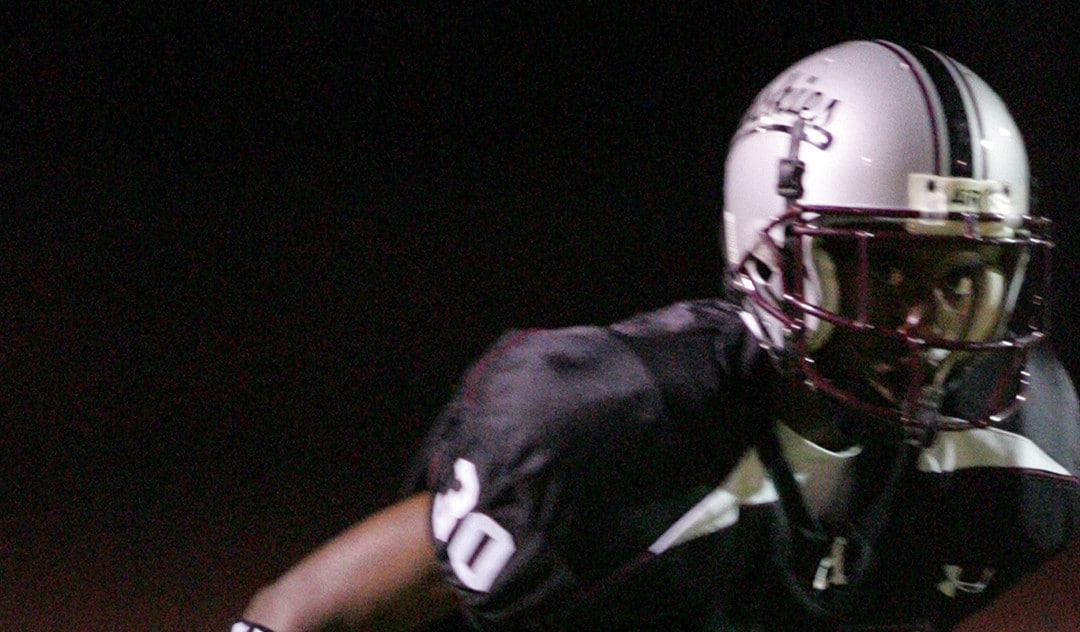 Paralysis doesn't keep injured football player from being in middle of action.
Mark Armijo
The Arizona Republic
Sept. 2, 2006 12:00 AM
When Hamilton High School wide receiver Joe Jackson suffered a broken neck during practice last season, paralyzing him from the waist down, some thought he would never return to the sidelines.
They were wrong. As Hamilton beat Red Mountain last week at Arizona State University's Sun Devil Stadium, Jackson cheered wildly on the sideline.
Nothing could stop him from experiencing the joy of victory. Not even paralysis.
Jackson, a reserve junior wide receiver last season at the Chandler school, was injured trying to make a tackle during a practice for a state playoff game in November.
In the blink of an eye, Jackson's life changed forever. Barring a cure, his life now must be negotiated from a wheelchair.
But instead of cursing the world for his injury, the 16-year-old has chosen a different path, one that has him tackling each day's new challenge as if he were still on the football field scrapping with defensive backs.
"Even after what happened, I've never been down," Jackson said during lunch after participating in a Huskies pep rally. "There's no reason to be. I was always positive before.
There's no reason to change. Being negative is not going to get you anywhere in life." Being positive is what put Jackson back on the sideline. It will keep him there for every game this season.
It's what persuaded Hamilton coach Steve Belles to make certain Jackson was part of the pre-game coin toss against Red Mountain, a ceremony reserved mostly for captains.
And it's why Hamilton players are wearing helmets this season with the No. 30 on them, Jackson's old number. "We're doing that to show that we haven't forgotten Joe," said Hamilton wide receiver Chase Barth, who takes turns driving Jackson to school.
"He still comes to our practices when it isn't too hot, and so we're going to keep including him in everything. When we took our team photo, he was there with us.
"We're just glad to have him back. We want to keep him as our teammate."
Belles was not at Hamilton last season. He took the job in the spring when John Wrenn opted to become an assistant coach at ASU. But it didn't take Jackson long to grow on Belles. "I have a ton of respect for people in Joe's position, but for him especially just because he's so young and is handling it so well. I talked to our captains about Joe being part of the coin toss, and they thought it was a great idea."
Jackson said he's deeply humbled. "When I came back to school (last March), I didn't know how people would react," said Jackson, who can move his arms and wrists but is unable to move his fingers.
"I wish I could be out there playing. I love football. . . . Just because what happened to me doesn't mean I don't like it anymore. I won't play again, but I know I can still watch my team.
"There's no reason to be sad. . . . This happened for a reason and so I don't ever say, 'Why me?' I don't get bummed out."
Todd Jackson, Joe's father, isn't surprised with his youngest son's attitude.
"He's always been a positive person," the elder Jackson said of Joe, who has a 3.85 grade-point average and plans to major in engineering at ASU or the University of Southern California.
"He's got a big heart." A big heart in a small body. At 5 feet 5 and 125 pounds last season, larger defensive backs often overmatched the younger Jackson but he played often during Hamilton blowouts.
The Jackson family, which includes Joe's mother, JoAnn, now want to help other paralysis victims.
They have started paperwork to create the Joe Jackson Foundation, which Todd said would help provide financial assistance for anyone in the country who is unable to purchase equipment to aid their rehabilitation.
Jackson finished his three weeks ago. "Joe is our hero, and this is something we just feel we need to do," Todd said.