OUR MISSION
---
The Joe Jackson Foundation is a 501(c)3 non-profit organization dedicated to improving the quality of life of children with Spinal Cord Injury (SCI) and their families and to provide adaptive equipment throughout United States. This organization was created by Joe's calling to primarily help inspire individuals disabled by SCI to continue living actively because there's much to overcome despite the challenges they face and to fund JJF exciting programs. It is our mission to educate, enable, encourage, and empower individuals living with paralysis by:
1. Educate through mentoring, guidance and support for those affected by Spinal Cord Injury through peer to peer mentoring and our website.
2. Enable individuals to focus on living actively in various sport platforms through the JJF INDIVIDUAL GRANT SCHOLARSHIP.

3. Encourage by involving SCI individuals to actively participate in the JJF key initiatives programs.

4. Empower individuals living with paralysis to live actively and strive for their dreams by providing sports adaptive equipment and some recreational equipment necessary to allow those living with paralysis to continue on living their dreams and accomplishing their goals.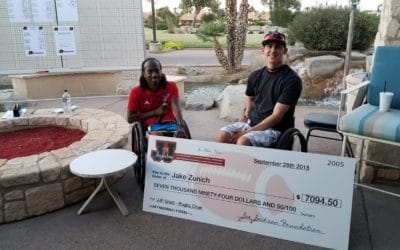 The Joe Jackson Foundation held it's 5th golf tournament September 28th, 2018 at Ocotillo Golf Resort and raised over $6,000. 40 golfers came out for a fun day of play for a good cause supporting individuals with spinal cord injuries continuing to be active. JJF was...
read more