ABOUT THE FOUNDATION
---
The Joe Jackson Foundation is a 501(c)3 non-profit organization that strives to inspire, inform and enable children living with spinal cord injuries (SCI) to continue living actively; support opportunities for Joe's quest to walk again; and to help spinal cord injury survivors.  In addition, the foundation actively promotes the Joe's motto and attitude; "I can" to recent injured survivors, provides awareness in the community and provides an informative, reliable website which pools the wealth of available information on adaptive sports and SCI research & recovery.  The Joe Jackson Foundation will also provide individual awards grants for children and athletes to qualified applicants.
The Joe Jackson Foundation, run by executive director Todd Jackson and guided by a Board of Directors, also, it provides grants for adaptive athletic equipment and for other non-profit programs benefiting the disabled, and one major key is that JJF encourages an active lifestyle after SCI.
Using donations after the accident, Todd created the Joe Jackson Foundation to give others an opportunity to receive support and help.  As a non-profit organization, JJF empowers children and athletes living with spinal cord injuries, primarily paralysis, to embrace an active lifestyle and take advantage of multiple opportunities available in adaptive sports and recreation.  In order to accomplish this, the Joe Jackson Foundation is in the process of developing its Individual Grant Program to provide full financial grants for families who may not have insurance or limited coverage for adaptive equipment to individuals with spinal cord injury.
The Joe Jackson Foundation was established on October 26, 2006 to help spinal cord injury survivors and inspire children to continue to strive for their goals.  Inspired by Joe's own story, the foundation will reach many positive individuals living with a spinal cord injury.
JOE'S STORY
---
I woke up disoriented with tubes down my throat and nose in the hospital and stared blankly at the ceiling while the different machines were beeping.  I then realized what had happened and how I got there.  November 21, 2005, I was playing defense as a strong safety.  I ran over to the other side of the field to make a tackle and the next thing I knew, I was on the ground. I tried to get up, but couldn't.  I tried to reach out my hand to get help up, but couldn't.  My teammates asked me if I needed help up, but my breath had shortened and it was hard to breathe or talk.  My arms were tingling and I couldn't feel my legs.  I wanted to get up so bad and continue practice.  The coaches and trainers ran to my side and told me not to move and I didn't move.  The ambulance and the helicopter showed up and asked me questions, such as, what happened.  I told them gasping for air after every sentence.  I asked with fear, "Will I be able to walk again?"  Everyone replied in unison, "You'll be alright."  The paramedics carried me into the helicopter on a stretcher and I saw everybody on the team watching me.  My coaches, Palomeraz and Wrenn said, "Everything is going to be alright Joe.  We will meet you down there," and I believed it.  Soon, I arrived at St. Joseph's Hospital and I passed by my parents as I was pushed to the emergency room by the nurses on a stretcher.  I entered a white room and suddenly a mask was put over my face and I entered a deep sleep.  I didn't think anything life changing had happened, but I was wrong.
Three weeks went by, and I had started intense therapy.  I had to learn how to do tasks with what I had since I couldn't move my legs and my arms were weak.  I learned a number of techniques on how to transfer myself from my wheelchair to the mat.  I lifted weights to get stronger and build stamina to push my wheelchair.  It was hard work, but I was used to it from football.  Many people ask themselves "why me," but I never did.  I wouldn't let myself just give up because I'm motivated to getting better and to get back up on my feet.  I observed in the hospital that some patients would just lay in bed feeling sorry for themselves and would never go out with the group to get experience in their new life styles.  Not me, I was an athlete and I was active before, so why change now.  I have my whole life ahead of me.
Rehab
I was dedicated to my rehab sessions, which continued for seven months, to learning all that I could to be independent.  I was determined to be able to transfer without any help, push up a ramp, go out with my friends, play video games, increase the weight I was lifting, support my football team and to be able to go back to school fourth-quarter of 2006 only four months after my injury.  I have accomplished all these goals because of my never give up attitude and the hard work that I put forth.  Looking back, I learned that I had to overcome adversity and I did.  I had to be strong and courageous to get through what I have.  My mind was set on doing the impossible and still is.
When I saw other people that were worse than I was, I realized that my injury wasn't so bad.  Yes, I can't walk right now or do everything that I used to do, but I am still capable of being able to think for myself and to graduate high school.  I can still to go to college and get my degree in electrical engineering.  I am still able to get a job and support myself.  Doctors say I might never walk again, but I don't believe that.  I believe anything is possible.
Activities
I have played football my entire life from ages of Pop Warner football to high school on freshmen, junior varsity, and varsity football.  I played on varsity up until the semifinal game until my injury however; I'm still part of our team and on the field every game supporting my team.  I understood why they wanted to forfeit the state championship because their thoughts were on me but my competitiveness and spirit couldn't allow them to do it.  I wanted them to go on and try to win it for our school.  I even watched it on television with my dad in the hospital with a few friends because I wanted them to know that I was watching and supporting them. My position is wide receiver and our team went to state championship however; came up one point short.  Football isn't the only sport I participated in high school. During my freshmen year, I wrestled on the varsity team but didn't qualify for my region or place in the state tournament.  In my sophomore year, I ran track on the junior varsity team in the 100 meter, the 200 meter, and the 100 meter relay events. I enjoy competition and that's what keeps me going along with my parents.  One of the most important goals I have set for myself is to graduate from a university with a Bachelor of Science degree in electrical engineering.
Rugby
Joe Jackson and the SpoFit Phoenix Heat were crowned national champions for the second year in a row on April 4, 2015. In 2014, when the Heat won the championship, they went 25-0, a perfect season. Being at the top the Heat knew they would be the hunted for the following season. A repeat wouldn't just be piece of cake. The Heat lost only 2 games the next season. They traveled to Canada to seek tougher competition and came out on top in Canada. At the National tournament in Kentucky in April of this year, they went undefeated to capture their second championship.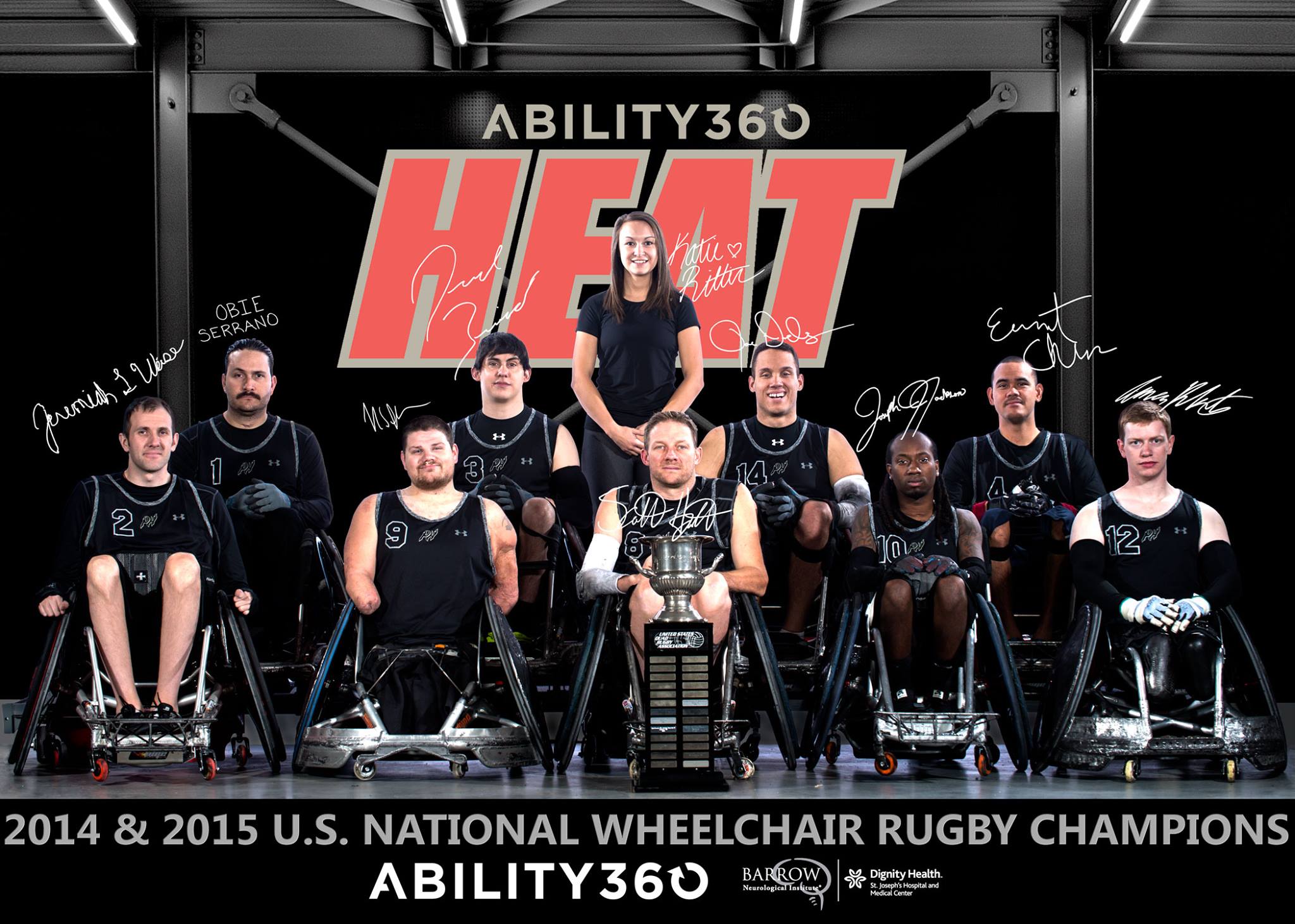 2017 SPONSORS
Silver Sponsor
Bronze Sponsors
Desert Diamond West Valley Casino

Honor Health Rehabilitation Hospital